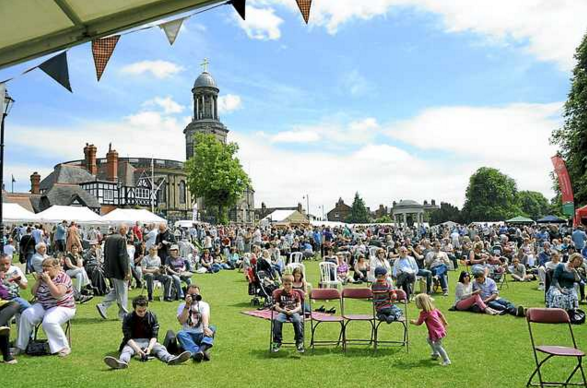 We are lucky to have access to an abundance of food festivals in the nearby area. From the famous Ludlow Food Festival that attracts 30,000+ each September, to the small but in our view, equally special, Monmouth Food Festival in late May.
When you're foodies like we are, there is nothing better than a day spent tasting delicious morsels from local growers and artisan producers, all washed down with alcoholic delights from locals like Chase Vodka, Oliver's Cider and Hobsons Brewery, as well as yours truly of course, Castle Brook. Rain or shine, a day at a food festival is a day well spent.
Here are some of our favourites:
Ludlow Spring Festival – 14th May 2016
200 real ales is the headline of this festival and let's be honest, a great reason to go along. Add to that artisan cheese, gourmet sausage rolls, cured meats and punnets of warm, freshly picked strawberries and this festival is a readymade picnic! The perfect accompaniment to the eclectic music line up.
Great Malvern Food Festival – 30th May 2016
The Great Malvern Food Festival takes place in the grounds of the Great Malvern Priory Church and comprises  over 60 stalls showcasing all sorts of talented local producers. An extra foodie bonus is the Malvern Munch – a 7-mile walk during which you get to taste local foods and listen to live music. What's not to love?
Monmouth Food Festival – 4th June 2016
Shortbread, brownies and designer donuts are just a few of the delicious things on offer this year at Monmouth Food Festival. And with a Children's Quarter hosting all sorts of cookery based activities, this is a day out for the whole family.
Shrewsbury Food Festival – 25th June 2016
With over 200 stalls to take in, Shrewsbury Food Festival has something for everyone. Some of our favourites to visit include the Handmade Scotch Egg Company, Granny Tiggs and all the delights from Ludlow Food Centre. Yum!
Abergavenny Food Festival – 17th September 2016
Known to be the biggest and best-loved food festival in Wales, this one is a real treat, with tonnes of stalls showing off Wales' (and some of England's) finest produce. Look out for celebrity chefs and  sensational street food!
So there you go – that's our summer planned. Happy eating and drinking!
Chris