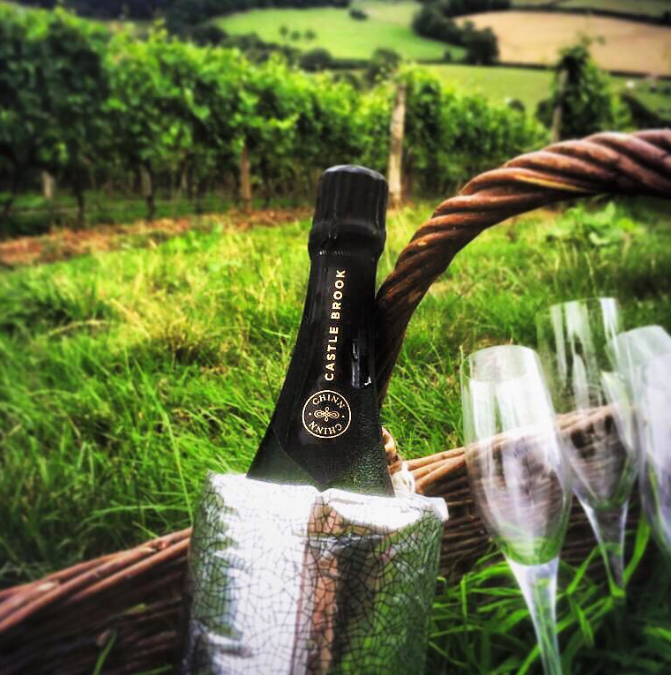 Spring is finally here, which means warm weather must be on the way and since we live in the most glorious Herefordshire countryside, a picnic is a must! We think our sparkling wine is the perfect picnic tipple, whether you're celebrating a special event or simply happy it's the weekend!
Now with great wine, you need great food and Herefordshire is renowned for both. So here's a list of some of our favourite Herefordshire produce for you to put in your picnic basket with our Castle Brook Classic Cuvée:
British Cassis
If you'd like to add a touch of sweetness to your fizz, then add a dash of British Cassis. Fruity, fresh and made with blackcurrants grown and pressed in down the road.
Mannings Juice
If you're taking along your little ones, the Mannings Ginger Apple or Conference Pear Juice, is a must. It's definitely a favourite in our household!
Legges
Who doesn't love a pie? Legges sell delicious handmade hot and cold pies perfect for a hearty lunch out in the fresh air.
Monkland Cheese
Monkland Cheese Dairy is a produces local artisan cheeses that are simply mouthwatering. Cheese boards are great for sharing, especially in the spring sun!
Tyrrells
Tyrrells are well-known across the country but that doesn't make them any less Herefordshire.
Personally, we like to posh up our picnic with their sweet and salty popcorn.
Frank's Luxury Biscuits
For something sweet, stash some of Frank's Luxury Biscuits (or flapjacks) in your hamper. You can buy them in most local farm shops and delicatessens or order online.
So that's our roundup of Herefordshire's finest produce. Let us know what yummy Herefordshire goodies you put in your picnic basket.
Enjoy,

Chris