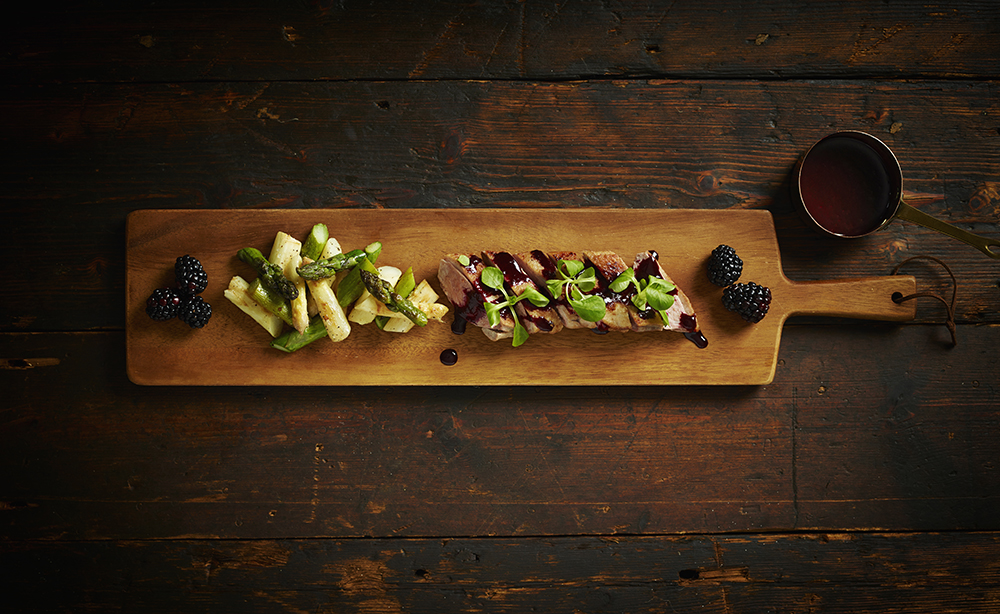 Welcome back…we hope you all had a lovely Christmas and a fabulous New Year!
We're all about New Year's resolutions here at Castle Brook, so this month we're sharing some new ways to enjoy our sparkling wine…
If you're hosting a dinner party and looking to give your guests a fruity kick on their arrival, then pay the perfect complement to our sparkling wine, by adding a drop of British Cassis to each flute – everybody loves a classic Kir Royale!
When drinks have been served, next up is the appetizer! Here's our favourite for you to enjoy with your glass of fruity fizz – Pan-fried duck breast with mixed white and green asparagus and blackberry sauce.
Serves 2
Ingredients
2 large duck breasts with the fat scored
12 spears of white & green asparagus, chopped into 3-inch pieces
Sea salt
Black pepper
Small knob of butter

For the blackberry sauce
5¼ oz. blackberries
2 tsp. lemon juice
1 clove
½ fresh bay leaf
1 sprig of fresh thyme
1 tbsp. brown sugar
Large knob of butter
1 shallot, finely chopped
2 field mushrooms, finely sliced
100ml ruby port
100ml red wine
10 fresh blackberries to garnish

Method
1. For the blackberry sauce, place blackberries in a bowl and toss with the clove, lemon juice, bay leaf, thyme, and sugar.
2. Melt butter in a pan and fry the shallot and mushrooms over a medium heat until softened and light golden-brown. Stir in the port and wine and carefully set alight, then add the blackberry mix and a pinch of salt. Simmer the sauce for 10 minutes, then purée in a blender or food processor. Strain the sauce through a fine sieve and set aside.
3. Rub the fat of the duck with sea salt and black pepper. Place the duck, skin side down in a frying pan and place on a medium heat. Cook for 5 minutes, until the skin is crisp and golden brown. Turn, then cook for 3 – 4 minutes. Remove from the pan and allow the duck breasts to rest for at least two minutes.
4. Bring a frying pan of salted water (just enough to cover the asparagus) to the boil, and add the trimmed asparagus. Cook for four minutes. Drain and toss in butter.
5, To serve, arrange the asparagus evenly on two boards. Slice each duck breast with a sharp knife and place on the board next to the asparagus. Drizzle with the blackberry sauce, and finish with fresh blackberries.
We're giving away a bottle of the good stuff over on our Facebook page for you to pair with our favourite recipes. To enter, simply visit our page, find the post pinned to the top, LIKE it and leave a COMMENT telling us what your New Year's Resolution is, to be in with the chance of winning!

Good luck! 
Chris